Stéphanie Poulin McComeau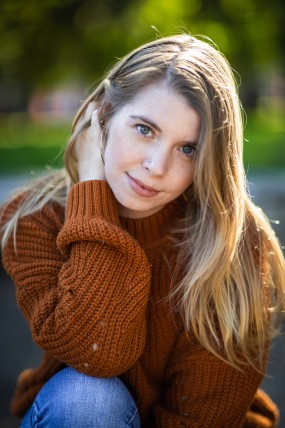 Stéphanie Poulin-McComeau holds a bachelor's degree in dance at UQAM, profile interpretation, since 2015. In 2016, she collaborated with Le Black Hole - Art Chorégraphique as a performer-creator and presented on stage the piece "Sorry I can't talk right now ", offered as part of the Bouge ici - Espace commun / Common space festival. She has also participated as a performer in the video dance "Néréides", presented in Portugal in 2018 at the Encontros do DeVir festival and at Quartiers Danses.
In order to enrich her knowledge, she began studying for a master's degree in dance at UQAM in 2017. Her main field of interest is the state of "flow" (Mihaly Csikszentmihalyi) in the practice of dance improvisation through the creation process. In addition to her activities in the field of dance, she has a great interest in training and physical conditioning and obtains a certification in private training granted in 2020 by the Ataraxia training school. She is currently a rehearsal assistant for the interdisciplinary project "La réception" staged by Cyril Catto and choreographed by Virginie Desroches, as well as a performer-creator for the choreographic project "Le coffre à danser" directed by Vincent-Nicolas Provencher, which presents itself as a tool for cultural mediation through digital deployment.