Joannie Labelle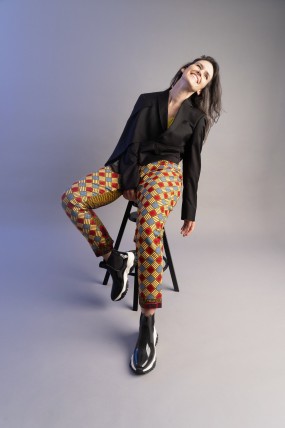 Known for her sensibility and contagious groove, Joannie Labelle charms her audience as soon as she sings or strikes the drums.
She studied percussion with many masters including Alain Labrosse, Luc Boivin, Paul Picard, Harouna Dembélé and Puvialagan Mayarajah. Joannie also developed her voice with great technicians from Quebec such as Vivienne Deane and Catherine Bastarache.
She has accompanied several renowned artists including Lara Fabian, Marie-Josée Lord, Marie-Élaine Thibert and Les Trois Accords. She was able to set fire to many DJ sets (Grand Prix de Montréal, Fusion Festival Germany, Eclipse Festival Québec, Les Nocturnes du Musée d'Art Contemporain de Montréal). Joannie has been invited as a musician on numerous television shows including Belle et Bum, Les Dieux de la Danse, La Voix, La Voix Junior, Y'a du Monde à Messe.
For the past five years, Joannie has shared her qualities as a singer-songwriter under the pseudonym Bea Box, which has led her to create for a number of artists and companies including Zøgma, Audrey Gaussiran and Vincent-Nicolas Provencher.
Joannie created Bea Box when she returned to Montreal from Berlin. After a year of living in Germany, composing became a great way to transcend her experiences. Bea Box explodes the boundaries of her feelings through music, a laboratory where a deep freedom unfolds.
To date, Bea Box collaborates with several talented artists such as Matthew Johnson (St. Vincent, Jeff Buckley), Manu Pitois (Lara Fabian), Alex McMahon (Plaster) and Jean-François Lemieux (Daniel Bélanger, Youssou N'Dour ). Bea Box has been a guest of many festivals and events such as Canada Day in Montreal, Arsenal Art Contemporain TD Tuesdays and LAUT! Festival in Hamburg.